Welcome to the Home Page of Applied Earth Technologies, Stephen Sehnert, Land Surveyor.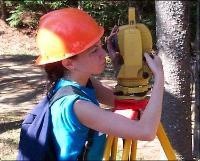 Applied Earth Technology provides a broad range of surveying services to meet the needs of residential, commercial, institutional and government clients. We value each project and strive to provide the highest quality service. From project inception through completion at AET we have both the experience and the latest technology to meet your survey and mapping needs.

Our combined experience - over 75 years in the industry- has given us the privilege of working on many diverse projects, such as extensive work on the Erie Canal, the creation of subdivisions that include thousands of homes in the Onondaga/Oswego/Cayuga county area, to projects at Syracuse University. We also provide a wide variety of services to the individual homeowner.

Why does our experience matter to you? Because we are surveyors who not only understand property line problems but are able to offer viable solutions. For example: With our miles of waterfront experience (Including Erie Canal, Seneca River, Blue Mountain Lake, Oneida Lake) we have asisted in solving numerous waterfront property line issues, and offering a clear explanation of riparian rights.

We not only have the experience to prepare FEMA elevation certificates - we have the knowledge and the skill to prepare LOMA applications. Why is this important? It may eliminate the need for costly flood insurance.

It is important to us to give back to our community, and we have provided our services to Syracuse Habitat for Humanity, the Boy Scouts of America, and the local Little League at little or no cost.